Giant Ohio Basket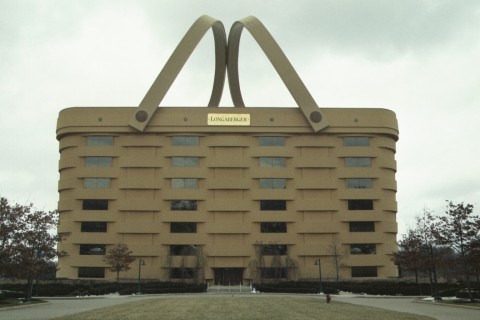 Seeing the Malaysian teapot reminded me that I wanted to make a post about the Longaberger Basket Factory in Newark, Ohio. I just saw a PBS show called A PROGRAM ABOUT UNUSUAL BUILDINGS & OTHER ROADSIDE STUFF that featured unusual buildings like the Corn Palace in Mitchell, South Dakota and a house in L.A. built to look like a spaceship. My favorite was the headquarters of Longaberger, the frou-frou basket company that has turned many a midwestern housewife into a collector zombie. Their headquarters, however, are housed in a 180,000 square foot basket! Here are the building's stats:
Property size, 25 acres
Building Capacity, 500 employees
Building Footage, 180,000 square feet
Total Weight of Building, Approximately 9,000 tons
Total Weight of Handles: Approximately 150 tons
Number of Windows, 84
Seven Stories in height
192' long, 126' wide at grade, widening to 208' long 142 wide at the roof
160 times larger than the Medium Market Basket.
LINK