Is That a Gun in your Pocket?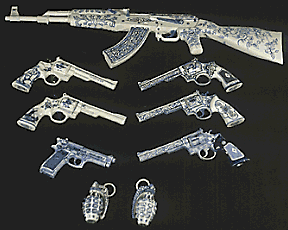 Just last week, I was bemoaning the fact that Extreme Craft contains a ton of links to woodworkers, knitters, underwater basket weavers, and the like, but precious few posts about ceramic artists. Mainly, I think that the reason is that most ceramic artists are still clinging to the Arts and Crafts era ideal of personal and societal transformation through handmade objects....Which is all well and good, but it sure makes for a dour, humorless bunch of people.

That said, I've been meaning to send a shout-out to one of the last, best ceramic crackpots out there, Charles Krafft. Charles Krafft was a moderately successful painter living in the Pacific Northwest, until he found a group of blue-haired old ladies that taught him china painting. What followed was his "Disasterware" series...functional wares painted with calamitous scenes such as the explosion of the Hindenburg. This lead him on a quest to learn the "Delft" techniques of the Dutch masters (fulfilled by an ex-Hells Angel tattoo artist, if memory serves).

Krafft's fascination with the darker side of humanity led him to the Slovenian "NSK" movement, and a series called "The Porcelain War Museum". That exhibit, which consisted of porcelain castings of honest-to-god weapons, decorated with floral Delft flourishes, has been exhibited widely, including a recent showing at the Cincinatti Museum of Art. Do you really really love Charles Krafft? If so, he can take your mortal cremains and turn them into an actual bone china pot (his appropriately titled "Spone" line). In 2002, Last Gasp published a fantastic book, called "Charles Krafft's Villa Delirium" that is a loving tribute to his entire oeuvre.